MEDIA
Thank you for your interest in Dells Boat Tours®, the classic river excursion that helped make the Wisconsin Dells famous! Our expertly guided excursions provide unparalleled views of towering bluffs and majestic rock formations along the Wisconsin River and feature exclusive shore landings at beautiful Witches Gulch and Stand Rock, site of the world-famous dog leap!
Our full media kit is available here for your use. You will find feature releases and various background and fact sheets about the attraction. High-resolution photography is available on request. See our photo gallery for a sampling. Please contact us for further assistance.
MEDIA CONTACT
NEWS RELEASES
BACKGROUND SHEETS
PHOTOS / VIDEO
Photos are available for editorial use. All photos must be credited to Dells Boat Tours® — Wisconsin Dells, WI. Please contact us for high-resolution photo needs.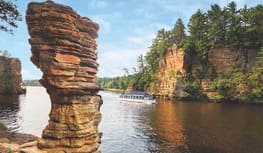 Media Hub Links